OPR V2 Turbo Oil Pressure Regulator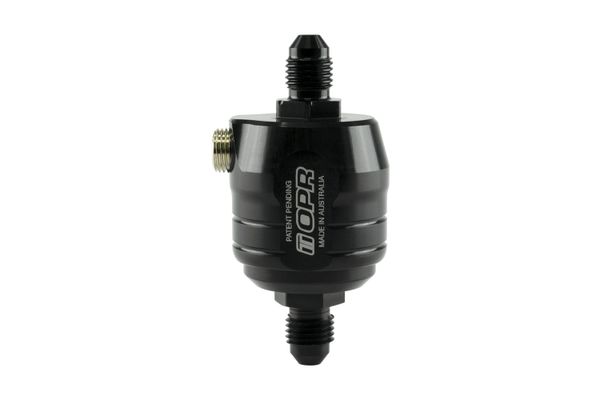 OPR V2 Turbo Oil Pressure Regulator
Stop over oiling your turbo, and here is the fix...
Introducing the Turbosmart OPR V2 Turbocharger Oil Pressure Regulator – the ultimate solution for maintaining rock-solid oil pressure in your turbocharger system. Our groundbreaking Return-Less Regulator, equipped with a built-in 44 Micron Stainless Steel Mesh Oil Filter, sets a new standard in turbocharger performance.
The OPR V2 is a true game-changer, achieving precise oil pressure control through our Patent Pending flow control strategy. Regardless of your base engine oil pressure or temperature, this regulator ensures a steady, laminar flow of oil to your turbocharger. No more worrying about over-pressurized engine oil causing consumption and smoking issues. The OPR V2 has got you covered, supporting all known engine oils and safeguarding the vital balance within your turbocharger – from exhaust drive to back and charge pressures.
Say goodbye to the guesswork of restrictors and orifice sizes. No need for complicated return lines to regulate your turbocharger oil pressure. The OPR V2 from Turbosmart is an easy, inline fitment that includes a built-in 44 Micron Oil Filter. This serviceable and replaceable filter adds an extra layer of defense, shielding your turbocharger from potential damage caused by debris in your engine oil.
Key Features:
- Patent Pending Innovative Design
- Anodized Aluminum (6262 T6) Body & Valve
- Regulated Oil Pressure Compatible with Most Turbochargers
- Built-In Stainless Steel (304) Mesh Oil Filter
- -4AN Inlet and Outlet
- 1/8 NPT Sensor/Gauge Port
- Directional Inlet Feed Logic
- Laminar Flow Output
- Suitable for all Engine Oils
Upgrade your turbochargers' oil pressure control with the Turbosmart OPR V2 and experience the difference. Don't compromise on performance – choose Turbosmart for precision, reliability, and peace of mind.