2022-2023 Suzuki Hayabusa Gen 3 GSX1340R Base Turbo System 220-500 HP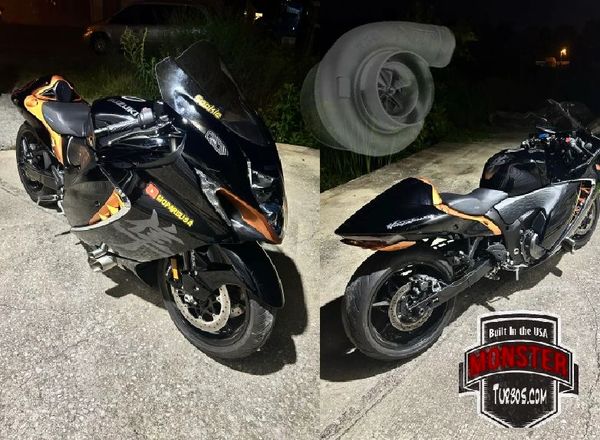 2022-2023 Suzuki Hayabusa Gen 3 GSX1340R Base Turbo System 220-500 HP
 2022-2022 Suzuki Hayabusa Turbo system * 385HP On Pump Gas! 
Precision Turbo 5831 MFS

Motor work is needed. for anything above 220-230 HP
* 40mm - Wastegate (external)
* T3 SS 304 .109 Wall Purged Tig Welded Pro-One Ultimate Header 
* 3'" Stainless steel SS304 .065 Wall Tig Welded V Band Dump pipe 
* 2.00 Alum Charge Tube
* High Performance in tank fuel pump or External 
*1:1 Fuel Reg
* Billet 
bolt on adapters, 4 O-rings for sealing adapters to factory throttle bodies,
  4 billet anodized fuel elbows for lower injectors, 2 billet fuel rail mounts.
  with stainless hardware, 1 billet fuel rail with -6 AN fittings, 4 62lb or
  82lb injectors for upper location, injector electrical connectors, 4
  silicone couplers and 8 clamps"
* All vacuum lines, connectors, hose clamps, and fittings.
* Braided oil feed line and fittings
* Oil return line and fittings 
* K&N air filter
Options: 
Precision 50mm Blow Off, Injectors, EGT Bungs Power Commander 6 PTI (Pressure based mapping).
Horsepower Rating:  Stock Motor (230HP) you will need to have motor work done to hold the additional Horsepower.
Please Note: These systems custom and are built to order and require 6/10 weeks build time. If you need something different, please message or call us.