2006- 2020 Kawasaki ZX14-ZX14R Ultimate Turbo System 220-700 HP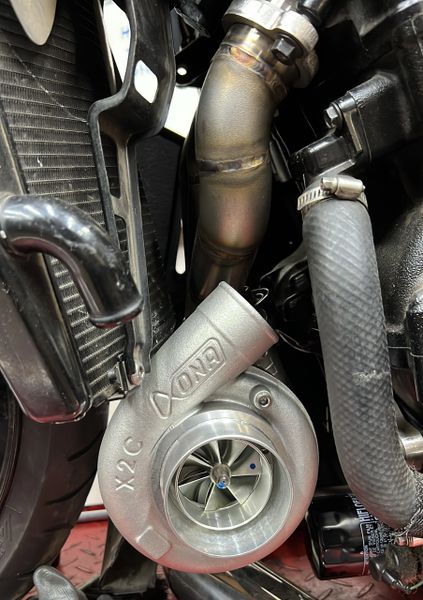 2006- 2020 Kawasaki ZX14-ZX14R Ultimate Turbo System 220-700 HP
Kawasaki ZX14-ZX14R Ultimate Turbo System 220-700 HP 
Product Description: 
XONA XR 6564S X2C 58mm Billet compressor wheel will support over 575HP Options: Xona 
XR 7164S X2C 60mm (220-640HP),Xona XR 7864S X2C 62mm (220-720HP)
Turbosmart 
GenV WG45 External Wastegate (external)
304 grade stainless steel purged welded .109 wall V band header 
3'" Stainless steel SS304 .065 Wall Tig Welded V Band Dump pipe
Braided oil feed line and fittings
Billet mechanical scavenge pump
Oil return line, and fittings
New in-line fuel pump (In-tank options available.)  
 1:1 Fuel regulator 
Fuel lines for the fuel system
Billet aluminum air filter cover
K&N air filter
All vacuum lines, connectors, hose clamps, and fittings.

2006-2011 models recommended boost is 6 psi, makes 260HP at rear wheel with stock engine.
2012-2017 models recommended boost is 4 psi, makes 260HP at rear wheel with stock engine.
It fits inside stock body work for a very stealthy look. 
Estimated build time 6-8 Weeks 
All parts sold by Monster Motorsports LLC. / Monster Turbos / Stedman Motorsports. are for off road closed course use. They are not intended for use on public streets or highways.