Kawasaki ZX14 Stage 1 Turbo System 2006-2018 models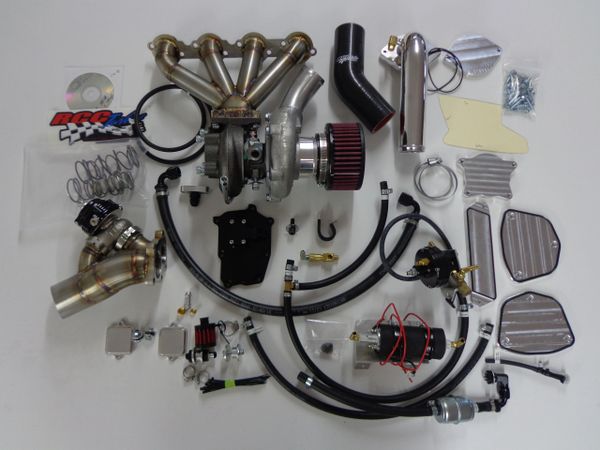 Kawasaki ZX14 Stage 1 Turbo System 2006-2018 models
System will ship in one week. 
  Please Note: This is a standard Kit  we also offer built to order
Kawasaki ZX14 Stage 1 Turbo System 2006-2018 models
  
Product Description: 
ZX14 Stage 1 Turbo System
Garret GT dual ball bearing turbo, will support over 430hp,
38 mm Tial Sport MVS wastegate (external)
304 grade stainless steel header and flanges
Braided oil feed line and fittings
Oil return line, and fittings
New in-line fuel pump
RCC Billet Rising rate regulator (FMU)
Fuel lines for the fuel system
Billet aluminum air box covers
Crankcase vent filter
RCC Billet mechanical scavenge pump
K&N air filter
All vacuum lines, connectors, hose clamps, and fittings.
Stock engine 260rwhp on pump fuel with stage 1 or stage 2 kit.
Engine with turbo pistons and HD valve springs, 290rwhp on stage 1 or stage 2 kit with pump fuel, or 330-340rwhp on race fuel with the stage 2 kit.
With a fully built engine, HD connecting rods, turbo pistons, valve springs, etc. The stage 2 kit will be 290-300rwhp on pump fuel, and 440rwhp on race gas.
2006-2011 models recommended boost is 6 psi, makes 260hp at rear wheel with stock engine.
2012-2017 models recommended boost is 4 psi, makes 260hp at rear wheel with stock engine.
It fits inside stock body work for a very stealthy look. This system can be upgraded to over 400 HP by adding secondary fuel system and engine work. No more turbo upgrades to be purchased.